Stemmerehabilitering og akut hjælp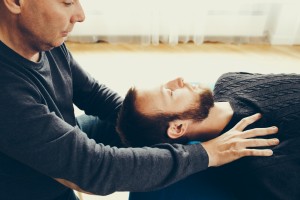 Rehabilitering betyder at genskabe gode vaner.
Der er selvfølgelig et "overlap" mellem sangundervisning og rehabilitering af stemmen; tale eller sang.
Du kan have brug for et intensivt rehabiliteringsforløb af kortere eller længere varighed, når din stemme er skadet eller når psykiske faktorer har en væsentlig indflydelse på, at din stemme er "gået ned".
Måske du i længere tid har sunget med fejlspændinger og nu bærer de ganske enkelt ikke længere; hele korthuset af sekundære hjælpespændinger er faldet sammen og stemmen vil slet ikke, som den plejer.
Måske du i den forbindelse har fået ødemer, polypper eller andet på selve stemmelæberne.
Måske du skal genoptræne stemmen efter en stemmeoperation.
Tit er stemmeproblemer forbundet til stress.
Et rehabiliteringsforløb vil som oftest foregå i et tæt samarbejde med andre behandlere; hals- næse- ørelæge, evt. psykolog, evt. taleinstut o.a.
Jeg vil udarbejde et træningsprogram til dig baseret på en auditiv, en visuel og en manuel analyse med det formål et genetablere en oprindelighed i din stemme; genfinde din kerne i stemmen.
Akut-hjælp
Du kan have brug for akut-hjælp i tilfælde, hvor du har en koncert, en forestilling, et foredrag o.a. og hvor din stemme er forsvundet, blevet hæs, føles forkert, ikke vil, som den plejer.
Måske i forbindelse med sygdom eller en stresset periode
Jeg tilbyder akuthjælp i tilfælde, hvor jeg skønner, at stemmen kan genskabes hurtigt ved afhjælpning af fejlspændinger.
Dette skøn vil jeg foretage i en samtale med dig, før vi mødes eller i begyndelsen af sessionen.
Jeg vil som hovedregel gerne have, at du har været omkring hals- næse- ørelæge først, for at udelukke at akuthjælpen ikke forværrer din tilstand.